During more than twenty years of performing, we have produced 4 cds, all based on live recordings of our concerts. Here you can listen to samples.
You can order our cds for €12 (plus shipping costs) via , or purchase them after our concerts.
---
Ensemble vocal's forth cd is ready – a live recording of a concert on August 17, 2012 at the Friedenskirche Hamburg-Altona.
The subject of love comprises an infinity of facets: happy love, consuming love, unrequitet love, love that carries you through life or breaks you, loving care for something that really matters, and many more. The works on the cd "Caritas et Amor" trace some of these facets and bring them to life.
---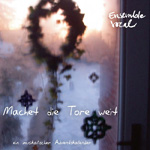 Machet die Tore weit (Lift up your heads, o gates)
The third cd by Ensemble vocal is a live recording of our 2010 Christmas concert at the Friedenskirche Hamburg-Altona.
---
In autumn 2009 Ensemble vocal published its second cd. The programme "Chroma" (Greek for "colour") comprises works which stand out by their richness of colour and thus intuitively touch the soul of the listener. Choral works display various levels of expression: apart from melody, harmony, rhythm and declamation, composers can also use sound colour as a creative tool to convey emotions.
The cd was recorded at a concert on Oktober 4, 2009 at the Friedenskirche Hamburg-Altona.
---
This first cd by Ensemble vocal was produced in 2008, 14 years after the choir's foundation. Usually, our programmes have a theme or topic, but not this time. What unites the works on this cd is, that they are our favourite pieces. It certainly is not a coincidence that most of them are from the 20th or 21st century. Due to the fact that all tracks have been recorded during competitions or concerts, occasional ambient noise is unavoidable. But that's what makes it "Ensemble vocal – LIVE".